Skye Limousine Wedding Limousine Packages
Weddings are the single-most important days for just about everyone. If you want to be 100% confident that the limousine service for your wedding will be on time, sparkling clean, professional, courteous, and competent, then look no further than Skye Limousine. Our San Diego Limousine wedding bridal packages are great for most of our clients, or we can custom-design a unique package that will fit your specific needs. And remember, every one of our Skye Limousine San Diego Wedding Packages comes with complimentary champagne or sparkling cider and red carpet to help make your special day even better!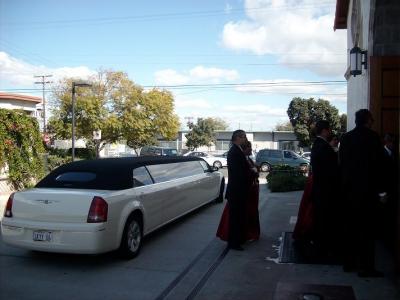 Exec Sedan
(2-4 Passengers)

SUV / E-250
(2-6 Passengers)

Lux Stretch
(2-8 Passengers)

Excursion
(2-10 Passengers)

4 Hours - $329
4 Hours - $429
4 Hours - $519
4 Hours - $559
6 Hours - $449
6 Hours - $569
6 Hours - $669
6 Hours - $729
SanDiego Wedding Limousine Package includes gratuity, taxes, bottled water, Wilson Creek Almond Champagne, and red carpet. Visit our snack and beverage page to customize your special day and add your favorite alcoholic and non-alcoholic drinks or upgrade your champagne!
After-reception sedan transfer special: Book 4 hours or more in a Skye Limousine and receive 50% off a sedan transfer for the bride and groom at the end of the reception to hotel or airport.
Just need a transfer after your reception? Book a ride within most areas of San Diego for just $140!